As a real estate Broker, and person that friends have told me "has the natural gift of gab," and truthfully, from several introspective recollections, can say "has found himself in social situations engaging with complete strangers." The icebreaking question that most often comes up from people I meet right after they find out what I do is..."How's the real estate market?" Pause, gulp, smirk, pause..."How's the real estate market?"...Of course I welcome the question as I love the discussion and I love helping people, but to be able to pull it together into a 30 second CliffsNotes version...Like, really?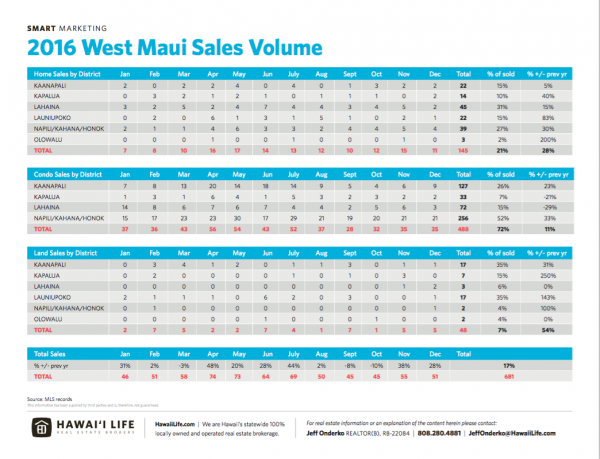 With so much criteria involved, it's honestly the hardest question to answer properly without saying, "Well, do you have an entire afternoon, I have a lot of questions?"
I mean, how do you respond?..."It's up, it's down, it's great, it's slow, it's tight, buyer's market, seller's market, it's on fire, it's cooled, there are great deals, it's tough out there...not sure about others, but I'm kicking ass? Like seriously, a tough and "very generalized question."
To be handled correctly, the question can only be answered with one or several more follow-up questions, such as: "When did you buy? Where did you buy? When/Where are you thinking of buying? Your purpose for buying/selling?"
Anyways, for those that just want the question answered, West Maui is on the up again. 18% over last year.
Above is a look at West Maui 2016 unit volume sales from each of the following areas with no $XXX,XXX,XXX inflated numbers: Kapalua, Kaanapali, Kahana, Lahaina, Launiupoko, Napili, Honokowai, & Olowalu.
Thanks for reading! - Aloha