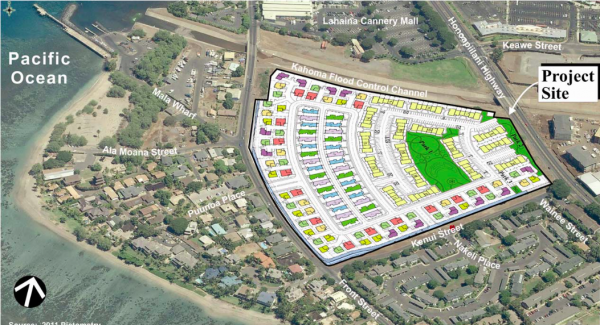 Slated to start construction sometime this year on 22 acres of Lahaina property owned by The Harry & Jeanette Weinberg Foundation in conjunction with Developer Stanford Carr is Kahoma Village: a 203 single and multi-family unit residential neighborhood planned for construction in West Maui, just South of the Cannery Mall, in between Honoapiilani Hwy and Front Street in the heart of Lahaina.
Kahoma Village Conceptual Site Plan
According to the 34 page proposal at the Urban Design and Review Board meeting last March, Kahoma Village will include 69 Cluster Single-Family units, 32 Alley Loaded Single-Family units and 102 Multi-Family units (considered to be the Affordable Housing allocation portion of the project). Additionally, Kahoma Village will have sustainable "green design" features, 1.75 acres of parks and all within minutes of walking distance to the beach, grocery store, or Lahaina Town.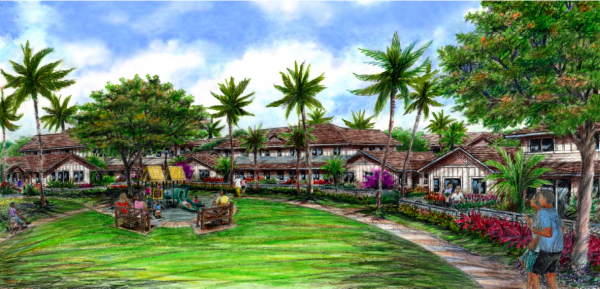 Kahoma Village Residential Park
How Big and How Many Bedrooms?
Single-Family Clusters - will range in size from 1,165 sq. ft. 3 bed/2 bath, to 1,670 sq. ft. 4 bed/2.5 bath models. Single-Family Alley Loaded Models - from 1,667 sq. ft. 3 bed/2 bath, to 2,329 sq. ft. 4 bed/3 bath. Both of these will also include an additional 400 sq ft garage. Multi-Family Affordable Units - have 3 models ranging from a 1,042 sq. ft., 2 bed/2.5 bath to a 1,287 sq. ft. 3 bed/2.5 bath.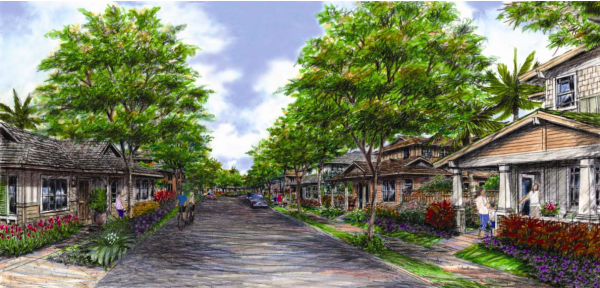 Kahoma Village Single-Family Units
How Do I Qualify for an Affordable Multi-Family Unit at Kahoma Village?
As per my conversation with the sales office last week, this project is following the state statue 201H workforce housing requirements. This generally means that candidates at or below 140% of the Maui County average income will qualify. This number varies based on the number of people in the household. For complete details and information, see the Hawaii Housing Finance & Development Corporation website.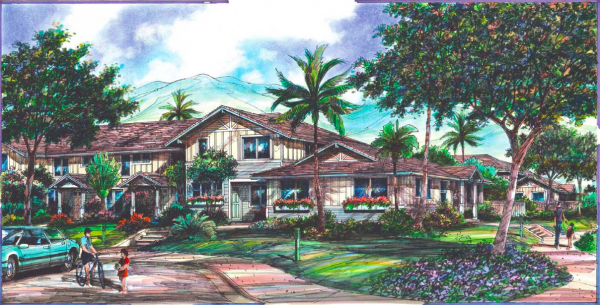 Kahoma Village Multi-Family Units
What Will the Market Value Homes Be Priced At?
The sales office will not give any list prices yet, but I believe by the conversation that sales collateral, marketing materials, and "starting from prices" will be available optimistically towards the end of summer (no word on HOA maintenance fees). However, for the sake of this blog and to test my market knowledge...I'll give it a price guess-ta-mate go and let's see what results in the months to come.
So, using a basic comparative price per square foot formula, factoring the average per sq. foot SOLD price ($353) for homes transacted in similar the Lahaina area over the past 12 months and multiplying that number by the offered square footages and then adding a 10% "new construction" factor...we get the following - and by no means is this official, just giving you a comparative summary method for an approximate idea - but basically, my gut.
Single-Family Clusters (1,165 Sq. Ft. - 1,670 Sq. Ft.): 1,165 sq. ft. X $353 X 10% = $452,370 1,670 sq. ft. X $353 X 10% = $648,461
Sq. Ft., Single-Family Alley Loaded (1,667 Sq. Ft. - 2,329 Sq. Ft.): 1,667 sq. ft. X $353 X 10% = $647,296 2,329 sq. ft. X $353 X 10% = $904,350 (for this one gonna reduce 10%) - 10% = $822,137
*note these square footages do not include the 400 sq. ft. garage.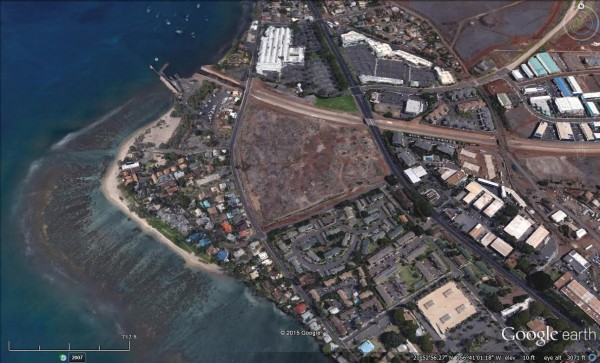 Want to Know More?
I will have further updates and news on Kahoma Village here on HL.com as it happens. But for more immediate information or if you have any questions, please feel free to contact me directly.
Thank you for reading.
Aloha - JTO
Image & Rendering Source: Urban Design & Review Board Proposal March 2014